If you are new to vegan sauce alternatives and don't know this one yet, then you should learn the concepts behind a basic tahini sauce. If you know how to make a sauce like this, you open a new world of flavours and possibilities. The concept always stays the same, but you can vary the taste in many different directions. This classical recipe perfectly fits to falafel.
Why the basic tahini sauce is great
Tahini is nothing else than pureed sesame seeds. That means you technically get a whole food with tahini, that is rich in iron, calcium and zinc. It mainly consists of poly and monounsaturated fats in a good ratio, which can be considered heart healthy and cholesterol lowering. Overall, tahini is a super healthy food. The vitamin C of the fresh lemon boosts the absorption of the rich minerals you find in this sauce. The good punch of garlic is also not only refreshing, but is known to lower the risk for cancer.
You can make any sauce like this
The principle of the basic tahini sauce can be applied to many other ingredients. use a fatty and protein rich base, mix it with acidity to make it stock up. Water it down until the desired consistency is reached. Instead of tahini you can use peanut or almond butter. Try working with fresh herbs like cilantro, swap lemon for lime. Add sweetness from fruits and jams. You will be surprised how easy it is to make a great new creation.
Making basic tahini sauce in no time
Making this sauce is easy as a pie. I recommend using a hand blender for quick and even results. But depending on the amount you are making and the time you bring, you can also whip the sauce by hand or in a food processor. Mince the garlic and squeeze the fresh lemon juice. Bring everything together in your mixing bowl and start whipping. Add the water little by little until you reach the desired sauciness.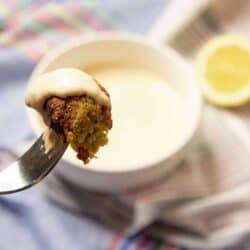 basic tahini sauce
This whole foods based thaini sauce is a flavourful creamy dip.
Equipment
Hand Blender

(a whisk does the trick too, if you are patient enough)
Ingredients
15

g

garlic

minced or pressed

120

g

tahini

white

60

ml

lemon juice

1

pinch

salt

1

tsp

cumin

80

ml

water
Instructions
If you have a hand blender, use a tall measuring cup to have a good blend. If you whisk, a deep round bowl is your friend.

Add all ingredients except the water to the container of choice and start mixing. Carefully add the water bit by bit until you have the desired consistency.

If you're not using the sauce right away, I recommend covering it and to store it in the fridge until needed.

From here, you can bend this sauce into many different styles. Try adding some sweetness from fruit or jams. Make a sauce with a different base, like peanut. Give it some beet root for both color and earthy aromas. The possibilities are infinite.
Nutrients per serving
Nutrition Facts
basic tahini sauce
Amount per Serving
% Daily Value*
* Percent Daily Values are based on a 2000 calorie diet.