Summertime! I really love the hot days, long evenings and outdoors activities that summer has to offer. To counterbalance the heat, from time to time it is an excellent idea to give yourself a cold treat. Sure, there is plenty of vegan ice cream on the market. But do you find a whole food version of it, that has no added sugar and is exploding with nutrients? Here you have it: a crunchy chocolate peanut nicecream entirely based on whole foods.
How to make nicecream?
Frozen fruit is the base to any nicecream. Depending on what flavours you like, you can blend anything imaginable. Since this recipe asks for strong chocolate flavor, frozen banana is a good choice to get started for it is less dominant in taste.
To change the texture from a watery sorbet style to something more creamy, the peanut butter comes to play. The fatty contents of PB soften up the whole picture painted on your tongue. And on top of that, you also add a good amount of protein to your ice cream. Protein + Ice cream. Hear that? Nice!
The soul of this nice cream is chocolate. So let's not forget about it. In this recipe I used pure cocoa powder and nothing else. That's it. Those 3 ingredients form your base of your nicecream. Here, we are already doing good, but to go to excellent, we should not forget about texture contrast.
Adding the crunch to the cream
What could be a better contrast to soft and creamy than crispy? Tossing in a few pieces of chocolate or cookie would fit great here, but lets stay on the whole foods train instead.
To finish the blend, I decided to use cashews and cocoa nibs. Transfer everything into your food processor and start working on the mass slowly. We want to break down the nuts, but without transforming them into a homogeneous mass that is no longer crunchy.
Once done with the blending, that's basically it. Serve your crunchy chocolate peanut nicecream quickly before it melts away. Decorate with more chocolate and other stuff like cocoa flakes. You know the deal.
Enjoy the summer and have a happy life.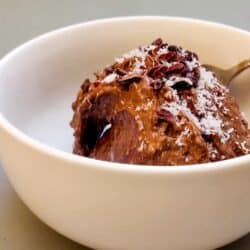 Crunchy Chocolate Peanut Nicecream
Awesome made easy!
If you look closely, you will see that's a lot for one portion. I do however treat ice cream as a small meal. So having 400 kcal per person is indeed intended. The amount however can easily be split in two, if you want to treat it as a smal side dish or dessert.
Ingredients
2

Medium bananas

Super ripe and frozen

1

tbsp

Peanut butter

2

tsp

Cocoa powder

1

tbsp

Cashews

1

tbsp

Cocoa nibs

1

tbsp

Coconut Flakes
Instructions
Give everything into your food processor and blend it for around 5-10 seconds on slow to medium speed. The idea is to mix and mingle everything, without powderizing all crunchy ingredients. If in doubt, first blend and then add the crunch.

Give a good scoop to a bowl or plate. Decorate with more cocoa nibs and some coconut flakes
Nutrients per serving
Nutrition Facts
Crunchy Chocolate Peanut Nicecream
Amount per Serving
% Daily Value*
* Percent Daily Values are based on a 2000 calorie diet.