If there is one cake that is popular almost anywhere, then it is carrot cake. The combination of the juiciness of ground carrot with a good seasoning of warm spices is hard to resist. No wonder, as the warm spices perfectly match the juicy texture of cake and carrots. This whole food carrot cake comes with health benefits on top.
A carrot cake with no sugar, and no oil. Just whole foods
Like most cakes, classical carrot cake is also packed with a lot of processed stuff like sugar, white flour, and margarine or butter. That's not quite the best treat from the perspective of healthy eating. Luckily, there are ways to replace all the unnecessarily unhealthy stuff with some beneficial components.
The principle is straightforward. You kick out all the highly processed stuff and replace it with whole foods. Dates replace the sugar, flour, and oil, make room for oats and nuts. Any cake can be part of a balanced diet if you work like this.
This way of baking exists in tons of variants out there on the web and you can make use of this type of dough in so many ways. Swap carrots and spices for cocoa and berries to make a chocolate cake. Add banana, add apple. There's many ways of creating a good whole food cake.
How to make a whole food carrot cake
This cake itself is prepared in just a couple of minutes. It goes well on its own, but can be further improved by adding a creamy frosting. Calculate one hour soaking time for the cashews. The actual making of the frosting is done in no time.
For this carrot cake, you need an oven and a food processor. As a measure, I want to keep it as simple as possible and use a Mug for measure. If you follow the recipe as described, you will produce enough dough for a 17 cm Ø spring form pan (ca 6.7 inches) — enough to share with a couple of friends but not too much to occupy fridge space for days.
If you can, pick whole spices and grind them in a mortar. The flavor left behind is way more fresh and intense, bringing the cake to the next level. If not, powdered spices do the trick as well. If you want to go cheap, replace the spices with some gingerbread mix, and you should be good.
Preheat the oven to 180° C / 350°F. Give all ingredients, except carrots, into your food processor and blend a chunky but sticky mass. Grate the carrots and add them to the mix. Slowly fold them in before adding everything into a baking form. Bake for 20 minutes, and your whole food carrot cake is ready.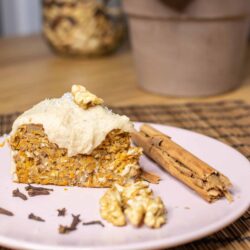 Quick and Easy Whole Food Carrot Cake
Full of the good stuff. No flour, no refined sugar. And boy this one fills you up!
Ingredients
The Dough
1/2

cups

Rolled Oats

1/2

cups

Walnuts

1/2

cups

Almonds

1/2

cups

Dates

Seeds removed

1

Banana

Ripe

1 .5

cups

Carrots

Grated
The Spices
1/2

tsp

Nutmeg

1/2

tsp

Cinnamon

1/2

tsp

Cardamom

1/2

tsp

Cloves

2
The Frosting
1

cups

Cashews

1

Lemon

Juiced

1/2

cups

Coconut Milk

Creamy

1/2

cups

Dates

Seeds removed

1

tsp

Vanilla

Optional
Instructions
Preparing the Cashews
Soak a cup of cashews in water for at least one hour. Go do some other stuff now.
Baking the Cake
The whole thing is not going to take much time. So start with preheating the oven at 180° C (350°F). If you have fresh spices put some cinnamon, cardamom and cloves in a mortar and crush them until both the cinnamon and cloves are powdered. Its normal if the cardamom stays in piece. We opened it and made its goodies more accessible. The rest will be handled by the blender. The nutmeg goes through a fine grater.

Put everything except the carrots in the blender and give it a good ol' mix until even. Meanwhile, grate the carrots. If you have a two-sided grater and wonder which to use: I am happy with the small side.

Now add the carrots and go a couple of seconds on low speed to fold in the carrots. Try not to juice them.

Transfer the mass to a spring form coated with parchment paper. Bake for 20 minutes. You're done with the cake. While letting it rest and cool down, you can take care of the frosting.
The Frosting
Put the cashews and everything saucy from the ingredients list into the blender. Blend until smooth and fluffy. Magic. You're done!

Give the Cake a good amount of frosting. Decorate to your liking. Enjoy
Nutrients per serving
Nutrition Facts
Quick and Easy Whole Food Carrot Cake
Amount per Serving
% Daily Value*
* Percent Daily Values are based on a 2000 calorie diet.