Yes yes! I put a plain and simple oatmeal on this blog as well. In many places in the world, oatmeal or porridge is a very common breakfast. No wonder, as oats are packed with fiber and essential minerals like calcium, iron and zinc. Their fiber is known for lowering your blood cholesterol levels. But why stopping here and just enjoy them with milk and sugar? You can get much more out of your favorite breakfast, by adding some more neat ingredients. Giving more variety to it really makes it a nutritious oatmeal that kick-starts your day perfectly.
What it takes to make nutritious oatmeal to be nutritious
By adding some fruit, we can boost the absorption of our minerals through a good dose of vitamin C. Blueberries, or berries in general, are a great source for that, especially since they are very high in antioxidants. For some variation, a banana can be added. To round up the amino acids I love, add some soy yogurt, as it represents the counterpart to the oats of the legumes group and builds a "complete" protein. (More on that in my article about Protein.)
The real gem of this oatmeal however are the additional seeds. Both Chia and Flax seeds are excellent sources of omega 3. Why not add them to our breakfast, as they easily put your check mark on your essential fats. Finally, I complete the composition with sesame seeds for their calcium. Add some nuts to round up the picture.
Why you should grind the seeds
To get the most out of the flax and sesame, I recommend grinding them. Just put them in the blender or run them through a coffee grinder if you have them. Like this, you make sure to be able to access what's inside. As Omega 3 is sensitive to light and heat, it is best to put the ground seeds in a jar and store them in the fridge. Like this they stay good over weeks, which is usually long enough until you use them up.
You can use this mix on many dishes as well to boost up the nutritional value. Add it to bread doughs. Sprinkle it on salads. Add it to chia puddings. You know the deal! Whenever you you have a vitamin rich meal in front of you, this is your opportunity to load up on minerals with this stuff.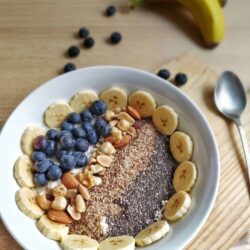 Nutritious and lovely Oatmeal.
Start the day the right way!
Ingredients
80

g

Rolled Oats

150

g

Soy Yoghurt

25

g

Mixed Nuts

unsalted

2

tbsp

Ground Flax and Sesame Mix

1

tbsp

Chia Seeds

1

Banana

50

g

Blueberries

Soy Milk

as you like
Instructions
Mix together in a bowl and enjoy!
Nutrients per serving
Nutrition Facts
Nutritious and lovely Oatmeal.
Amount per Serving
% Daily Value*
* Percent Daily Values are based on a 2000 calorie diet.