This one is for the texture lovers. This is another homage to the various variety out of the world of mushrooms. This creates the illusion of seafood. This is King oyster mushroom "scallops".
Most of the seafood is popular because of its unique variety of textures. The feeling it gives you when you close your teeth. The play of firm and spongy on your tongue. It's understandable why people love eating seafood.
But what if you want to avoid eating animals? What if you don't want to miss the experience anyway? Here is where the king oyster mushroom comes to play. This is a super easy and fast dish to prepare that will blow the minds of your guests. They might think "yeah mushrooms, not a big deal", but this one is far off the typical experience.
The king oyster mushroom mainly consists of trunk. And yes, we love that trunk. We love it for how it transforms to a spongy little something with massive amounts of bite when properly heated. We love the crunchy crust on the fried edges. Then how do we get there?
Making the King oyster mushroom "scallops"
To get the most sponginess out of it, you got to cut the trunk into generous pieces. To make king oyster mushroom "scallops", we best take a good look at the original. What we need is a slice of mushroom, the same size of a real scallop. So go generous and cut those 3-5 cm / 2in slices
To build up a proper crust and more mouthfeel, we add cuts to the sides. This allows the mushroom to soften up deeper inside and rounds up the crust with a deeper profile.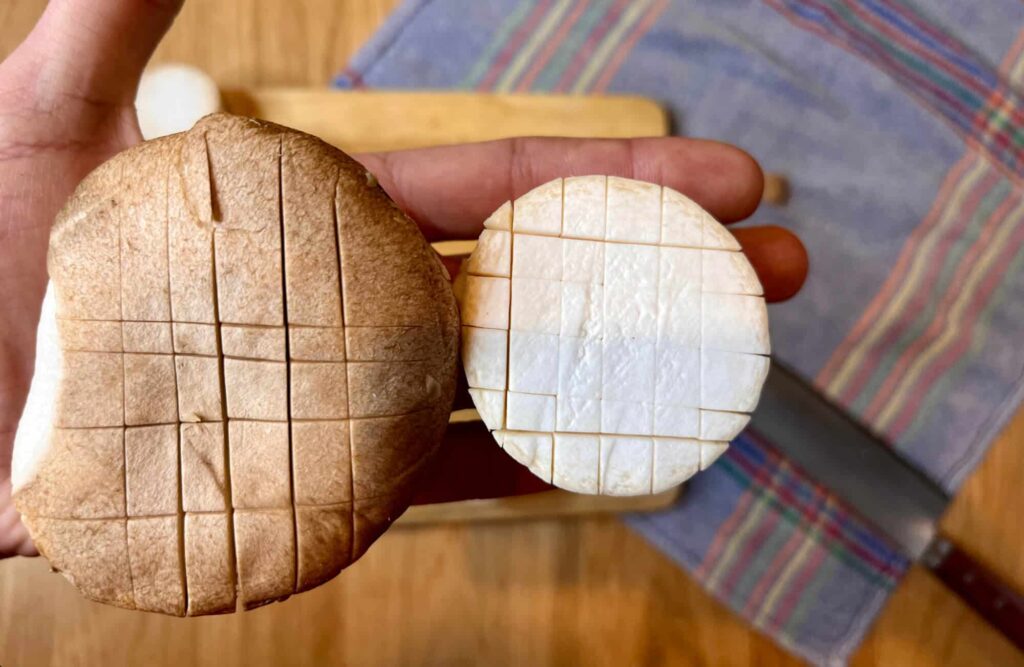 Getting Saucy
What is a good side without its dip? You're damn right. It's still boring. But here's the thing: anything you like can be a fitting dip for the scallops. You like mayonnaise? Go for it! Asian style? You bet! Spicy salsas? Sure, why not.
In this recipe, I went for a super easy Asian style dip mix. Just grab some sauces from various flavors and try to cover most of the 5 senses of our tongue (sweet, sour, umami, salty, bitter). With soy (salt, umami), Hoisin (sweet, umami. Look in your closest Asian store or online) and lime juice (sour, sweet) we got 4 out of the 5 already covered. A little bitter comes from the roast. And I don't intent to give much attention to bitter, this is more than enough.
Just put the ingredients together and mix them thoroughly. Add some water to dampen the intensity. The rest is presentation and plating.
Enjoy!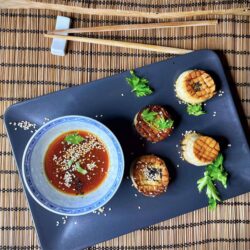 King Oyster Mushroom "scallops"
The fastest way to trick your brain into eating seafood
Ingredients
The mushrooms
4

King Oyster mushrooms

AKA Trumpet mushrooms

2

tbsp

Sunflower Seed Oil
The dip
1

tsp

Hoisin Sauce

1

tbsp

Soy sauce

1

pinch

Lime

juice

50

ml

water
Instructions
Frying the awesome
First, cut the mushrooms into thick slices horizontally. Be generous with the size and go for like 5cm / 2in sized slices

On top and bottom of each slize, start adding crossing cuts like on a caclulating paper.

Heat oil in a pan to medium high heat and fry the sliced mushroom on each side for about 4-5 minutes or until brown.
Mixing the dip
Add one teaspoon hoisin, one tablespoon soy sauce and a squeeze of fresh lemon juice to a small bowl. Mix until even. This sauce now is super intense.

Add water to the mix to bring the intensity of the flavor down. Don't worry if it still tastes a bit strong when pure. On food, as a dip, the taste is dampened.
Notes
Let me know what sauces you use to down your king oyster scallops in.
Nutrients per serving
Nutrition Facts
King Oyster Mushroom "scallops"
Amount per Serving
% Daily Value*
* Percent Daily Values are based on a 2000 calorie diet.