Did somebody say snacks?
This Vietnam style full flavour edamame dish is a perfect companion for the little hunger in-between. You can prepare it in minutes and won't require many ingredients. Frozen edamame are something easy to keep after all.
Skip the junk food
Surprise your friends with edamame on your next movie night. Compared to typical snacks like chips, nachos and dips, the preparation of this dish is super cheap. A bag of edamame costs barely half the price of a can of Pringles, but delivers a flavourful and healthy experience. These beans are packed with good quality protein, are rich in iron and antioxidants. Like most natural soy products, edamame are known to be heart healthy.
Preparating edamame in no time
All you need to do to get your edamame ready to eat is steam them. Get one of those pot inlays, stackable steam boxes or use a steel colander in a pot to get the job done.
While the edamame steam, you can use this opportunity and toss together a handful of ingredients to create a theme. In this recipe I took my inspiration from the Vietnamese cuisine and combined the juice of half a lime with some soy sauce, a sprinkle of oil. In terms of bite garlic, ginger and chilli round up the picture.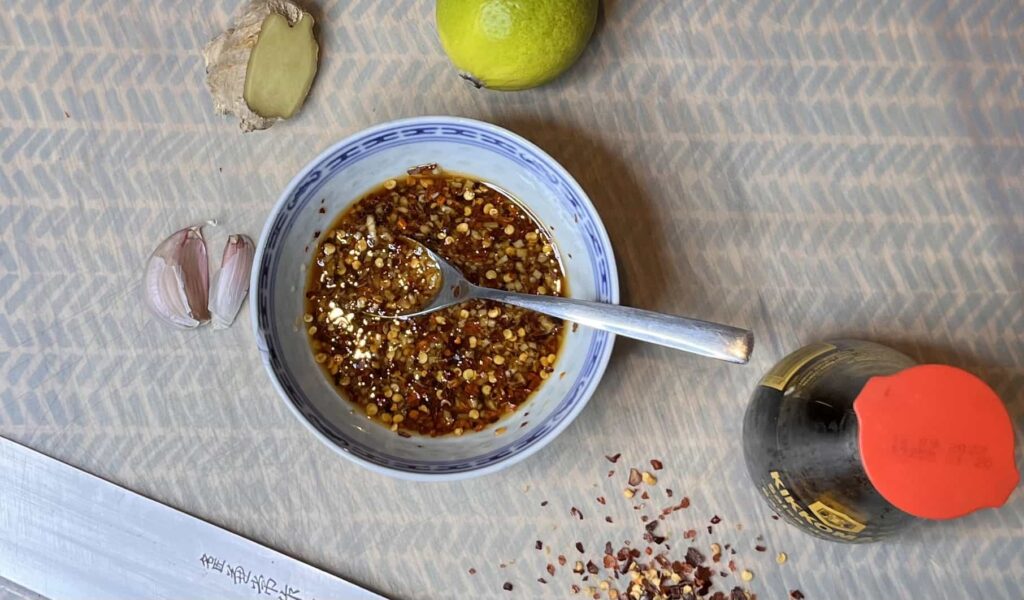 Stir the dressing well and let it rest for a couple of minutes, so that the aromas can evenly distribute through all the sauce. Once the edamame are steamed and air dried a little, it's time to mix everything together.
Tasteful eye candy
Last, let's add some fresh Cilantro to round up the visuals for your Vietnam style full flavour edamame. Cilantro is a very commonly used herb in the cuisine of Vietnam and perfectly complements the sweet and sour footprint of lime. A bit of black sesame gives a final crunchy finish.
How to eat edamame
If you're new to edamame and try them out for the first time, please don't eat the shell. Its not harmful or such, but surely not a pleasant experience. The idea is that you hold it at one end with your fingers and put it in your mouth. You close your lips and teeth around it and pull it out. The pods pop out and your lips make sure you will get enough fireworks from the sauce before chewing.
Enjoy!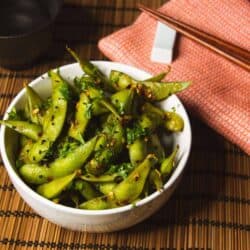 Vietnam style full flavour Edamame
A protein rich snack that tickles your senses
Ingredients
Sauce
2

tbsp

Soy Sauce

1

tsp

Sesame Oil

1

tsp

Agave Syrup

1

Garlic Clove

minced

5

g

Ginger

peeled and minced

1

tsp

Chilli Flakes

0.5

Lime

juiced
Decoration
1

pinch

Chopped Cilantro

extra fine

1

pinch

Black Sesame
Instructions
Steam the edamame following the instructions or for round about 10 minutes.

In a small bowl, mix the ingredients for the sauce together. Ideally, press the garlic and chop the ginger very finely to get the best taste distribution.

Let the sauce rest and soak.

When done steaming, let the edamame air dry a bit. Then mix well together with the sauce. For plating I recommend sprinkling some finely chopped cilantro over the dish and round it up with some seeds!
Nutrients per serving
Nutrition Facts
Vietnam style full flavour Edamame
Amount per Serving
% Daily Value*
* Percent Daily Values are based on a 2000 calorie diet.