Summer rolls are the best finger food and light snack. Unlike spring rolls, classic summer rolls are not fried and are super low in fat. Making Vietnamese summer rolls is a great activity for guests. All you need to provide are prepared ingredients. Everybody can then build their own rolls towards their liking, dip and enjoy.
Basic ingredients of vietnamese summer rolls
To make great tasting summer rolls, you actually don't need much. The basic ingredients are rice paper (the transparent one), vermicelli (super fine rice noodles) as well as a big bunch of fresh mint and coriander leaves.
Traditionally, you will find shrimps or other seafood in Vietnamese summer rolls, which you can just skip if you intend to make them vegan.
Besides the basics, you typically find carrot, pickle or cucumber, avocado and tofu as common ingredients. Try avoiding putting strong aromatic ingredients inside to not compete with the refreshing aromas from your herbs.
How to make summer rolls
Assuming you have chopped your vegetables and fried everything that is supposed to be fried, making summer rolls is done in a few easy steps:
Submerge one sheet of rice paper in hot water entirely for no longer than 2 seconds. Place it on your plate with one latch outstanding, so that you can grab it afterwards.
Start piling your ingredients onto your sheet of rice paper. Align your food horizontally, between the middle of the sheet and the outstanding latch.
Next, grab the latch and flap it over your pile of ingredients. Push down to close the roll.
Roll the entire summer roll 80% close. Fold in the open ends from the side and continue rolling close the role afterwards. You now have a roll with clean ends.
Repeat steps 1-4 until you run out of ingredients.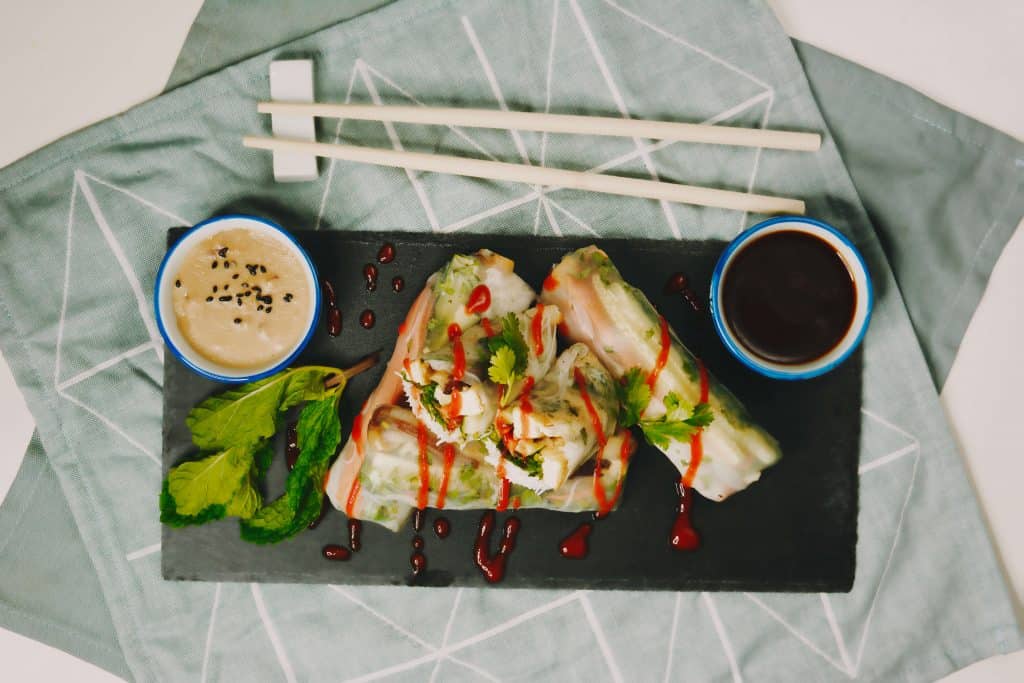 The best sauces for your Vietnamese summer rolls
Finger food is only half as good as it can be if you don't bring anything to dip. These rolls dip perfectly well with the following sauces and dips:
Siracha hot sauce or similar
Sweet chilli sauce
Hoisin sauce
Peanut coconut dip
Vietnamese summer rolls
Vietnamese summer rolls are a refreshing and delightful finger food that are great for group dinners. The combination of fresh herbs with the light aromas from the other ingredients make this a joyful bite without feeling heavy on your stomach.
Ingredients
base ingredients
20

rice paper

200

g

vermicelli

1

carrot

200

g

tofu

1

bunch

cilantro

1

bunch

mint

400

g

mushrooms

1

cucumber

small

2

avocado
for taste and frying
1

garlic clove

5

g

ginger

1

tbsp

coconut oil

for frying

1

tsp

soy sauce
Instructions
Preparation
Wash the vegetables and herbs. Use a peeler to cut small stripes off the carrot. Cut the cucumber into slim stripers. Pick the leaves of the herbs and chop them roughly. Put everything into separate containers.

Cut the tofu and the mushrooms in stripes. Heat up two pans and add some coconut oil. In one pan fry the tofu stripes from each side until golden. In the other, add the mushrooms, garlic and ginger. Fry until golden, deglaze with a dash of soy sauce.

Bring some water to boil and quickly boil the vermicelli.
Rolling summer rolls
Prepare a big bowl with warm water. soak the rice paper entirely, quickly. Lay the paper out flat on a plate, with one small latch hanging off the edge of the plate.

Add some or all ingredients to your liking. Arrange them sideways between the center and the hanging latch. Try to place everything evenly.

Grab the hanging latch from below and pull it up. Use your fingers to press down the ingredients on the roll while flapping over the rice paper you just picked up. Wrap the paper around the pile of ingredients and push to close the roll for now.

Roll the whole thing away from you, towards the other end of the plate. When about half a roll towards the end, flap in the empty rice paper from the sides. Roll the last open rice paper onto the roll. And you are done!
Nutrients per serving
Nutrition Facts
Vietnamese summer rolls
Amount per Serving
% Daily Value*
* Percent Daily Values are based on a 2000 calorie diet.