Banh-Mi is a typical dish from Vietnam. Its the application of Vietnamese cuisine onto a French style baguette bread. What sounds like a weird fusion in the beginning turns out to be an amazing snack to get a bite on. This Banh-Mi style sandwich takes the original and combines it with healthy additions. Be aware though, this snack is meal-sized.
Tweaking the Banh-Mi style sandwich
At first, lets replace that plain white flour baguette with something proper. White bread is known to be an empty carb, which on top comes with a quite high glycaemic index. That means while being of low nutritional value, it does not leave you satiated for too long. We are way better off with something containing a lot of whole grains. The stuff with seeds on top is my preferred choice.
Next, get some protein going. Tofu and mushrooms both have a great protein content and are very flavourful after frying. let's exactly do that. We fry the tofu until the sweet Maillard reaction takes care of browning. The mushrooms get the extra pinch of salty and umami through a dash of soy sauce.
Creating a great note of sour
Pickling vegetables is an excellent way of adding sour to any dish. Grated carrots and pickles are my choice this time. Red onions would work great here, too. I recommend using rice vinegar for the pickling if you don't like strong aromas of other vinegars. This one comes pretty pure and only delivers a decent smack of sour.
Give the pickling some time, at least ten minutes. The longer you give the vegetables time to pickle, the better the result. If you can, prepare a jar of vegetables in the evening and let them pickle in the fridge overnight.
Filling the gaps with healthy treats
To make the best out of your Banh-Mi style sandwich, let's forget about mayonnaise, margarine and other boring fatty stuff. Hummus, guacamole and peanut butter are your friends and add an unexpected twist to the final result. And of course, if you like spicy, add some of that hot sauce before putting the lid on.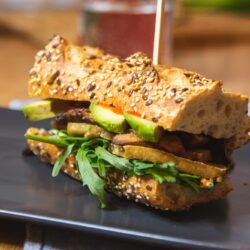 Banh-Mi Style Sandwich
This Banh Mi combines all flavours in one bite. From Sweet to umami, from salty to sour,.. every part of your mouth will be pleased.
Ingredients
Fried Stuff
100

g

fresh Shitake

100

g

Tofu

1

tbsp

Sunflower oil

2

tbsp

Soy Sauce

1

Garlic Clove
Pickled Stuff
1

Carrot

small

30

g

Pickle

4

tbsp

Rice Vinegar
Fresh Stuff
20

g

Spinach

20

g

Rucola

5

g

Cilantro

0.5

Avocados
Sandwich Materials
1

Whole grain Baguette

2

tbsp

Hummus

2

tsp

Siracha

hot sauce
Instructions
Preparing the fried stuff
Cut the tofu in slices and pat it dry. Heat some oil in a pan on medium to high heat. Fry the tofu on each side until golden.

Cut the Shiitake in big slices and fry them on mid high heat as well. Stir from time to time and when the mushrooms start picking up color, add the garlic.

When the mushooms are almost ready, add soy sauce and stir well until all liquid vanuqished.
Pickling stuff
Grate the carrot. Cut the pickle in thin slices. I recommend using a peeler to do this job. Transfer them to a small bowl and add rice vinegar. Leave aside for at least 10 minutes.
Stacking the Sandwich
Cut each piece of the baguette open on one side and bend it into a V shaped opening. If you can, toast the inside.

Start stacking with some Hummus, that will help keeping the greens together. Next come the pickled carrots and pickles.

The tofu slices are very handy to keep the green stuff below in check, so use them to force everything into place.

Avocado slices, mushrooms, hotsauce, Go!
Nutrients per serving
Nutrition Facts
Banh-Mi Style Sandwich
Amount per Serving
% Daily Value*
* Percent Daily Values are based on a 2000 calorie diet.