German-style goulash with soy protein chunks is a warming winter dish that perfectly combines with other typical Christmas foods. Try this recipe as the meat-free variant of a traditionally very meat-focused plate.
What is goulash?
Goulash is a very common dish in central and eastern Europe and is preferably cooked during the dark and cold winter times. While goulash originates from Hungary, you find many variants across European countries. Traditionally, goulash is a stew or a soup based on meat and peppers, that gets eaten alone.
However, German-style goulash is more like a dish with gravy, that perfectly combines with pasta, Knödel, red cabbage, and other typical Christmas foods. In the main photo, you see it combined with some simple potato fritters.
This recipe works without meat. The mushrooms and plant protein chunks deliver a delicious, meaty experience while being lean. Like this, you can enjoy the best of both worlds.
how to make German-style goulash with soy protein?
Normally, you make goulash with beef dice. In this vegan variant, we just replace these with soy protein chunks and chopped mushrooms. As the German variant of goulash is less a soup, but more a gravy dish, we can use gravy as a base for the sauce. For this, i've created this gravy sauce recipe which you can use as a base. Any other gravy sauce however will do just fine.
Besides preparing the gravy, you need mushrooms, soy chunks, onion, and red bell pepper. From the spice rack, you should grab sweet paprika powder, nutmeg, bay leaves, cayenne pepper, thyme, and cloves. You can add more red wine to the sauce for extra acidity.
Step by step
Step 1: Chopping and roasting
Start off by chopping your vegetables and cutting the onion into strips. Melt a small piece of margarine or vegan butter in a large pot. Add onion and bell pepper and let it roast for a short while until the onions turn golden.
Step 2: adding mushrooms and protein
Next, add the mushrooms and (dry) soy protein chunks to the mix. Deglaze with a dash of soy sauce and red wine.
Add paprika powder, bay leaves, cloves, and the rest of the spices, and stir well. Let it sit and roast for another minute so that the alcohol can fully vapourize.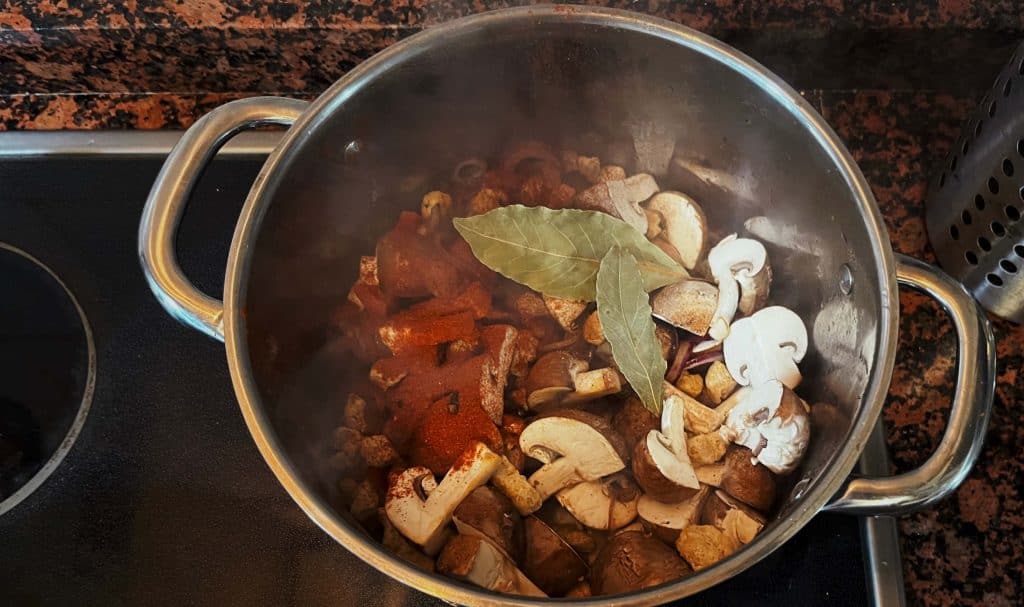 Step 3: simmering the dish in gravy
Next, add the gravy sauce and a twig of fresh rosemary. Let it simmer at low heat for at least half an hour to make everything tender.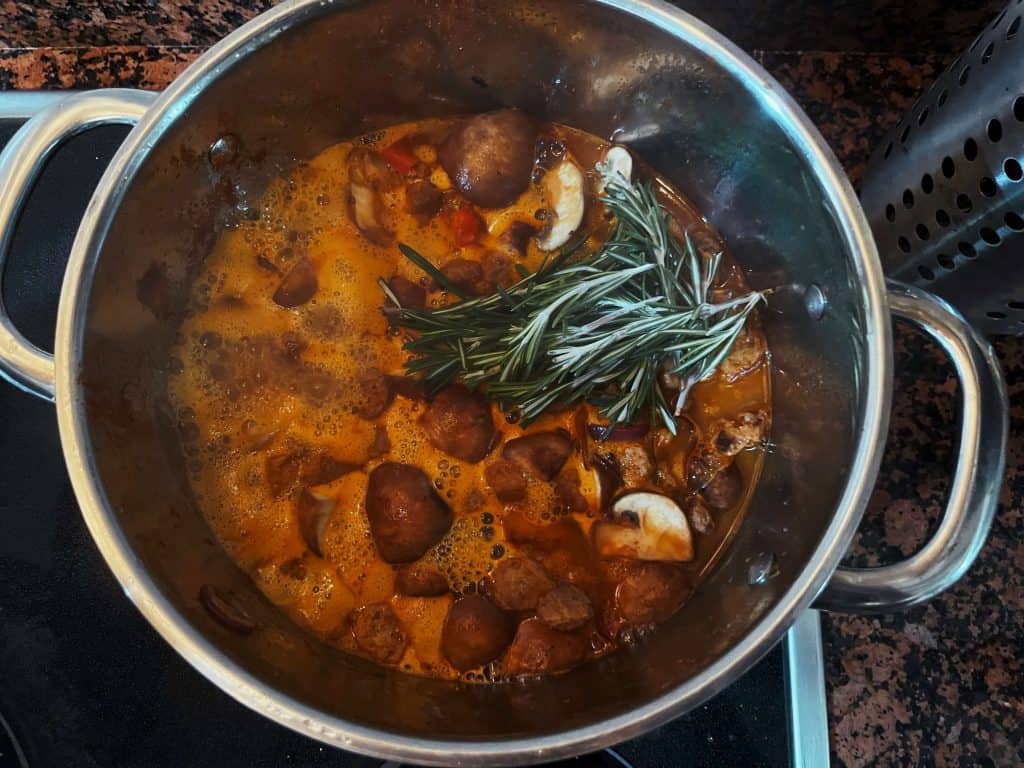 Step 4: Time to eat!
Once ready, remove the bay leaves and rosemary from the dish and serve hot. I recommend combining it with a potato dish. In the main picture, you see the goulash next to some quick and dirty potato fritters.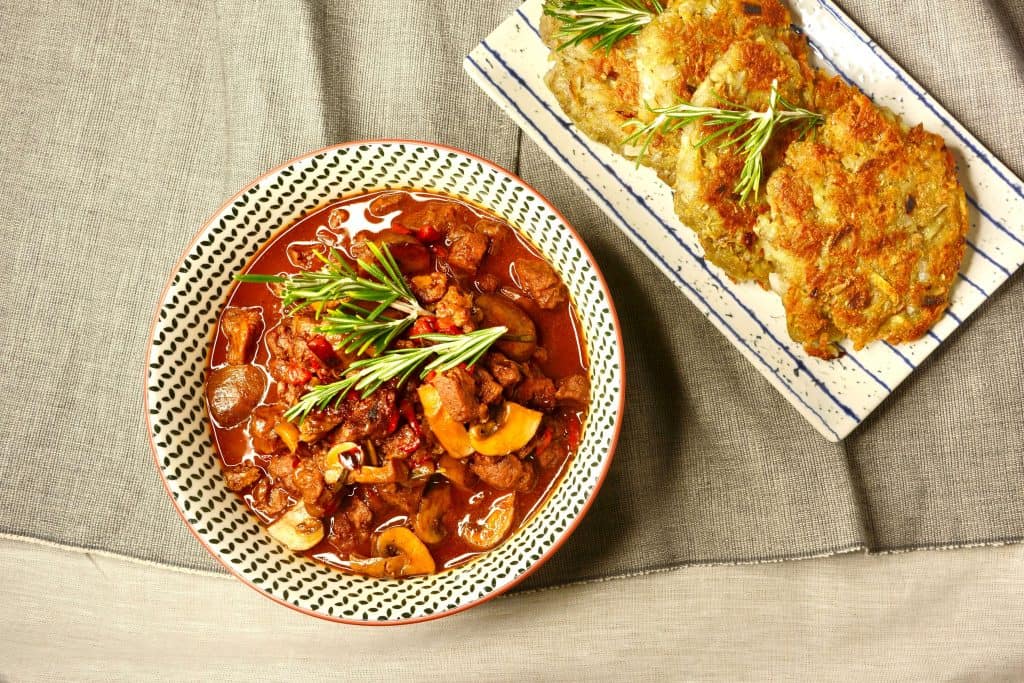 What can I eat with goulash?
There are plenty of options to choose from. Traditionally, this winter dish perfectly matches warming aromas and other winter dishes. Here are a couple of ideas that can help you creating your perfect winter dinner with goulash.
From potatoes
Fried potatoes: parboil potatoes and toss them in the frying pan. Add warming spices like paprika or cumin and onion to them
Potatoe fritters: You can create potato fritters from potatoes and onion. Their crunchy texture will complement the tenderness of the goulash.
Potato mash: Creamy potato mash is a great addition to this goulash. You can add some fresh herbs, butter or margarine, and a dash of salt. A tablespoon or two of plant milk helps create the right consistency.
Fries: Even good old fries make a tasty, crunchy side dish for goulash.
Boiled or steamed potatoes: The most classic potato preparation approach also fits this dish.
Grains and grain products
Pasta: It's a match. As goulash is very saucy, pasta is the perfect companion for a quick dish. Traditionally, in Germany, we make a pasta called Spätzle. This pasta type has a rough surface and is very good at carrying a lot of sauce.
Rice: Rice works surprisingly well with goulash. It's aromas stay in the background and allow the goulash to develop its flavor without interference.
Bread: Like with other stews, you can dip goulash with a slice of bread or a small bread roll.
Vegetables
Red cabbage: German-style red cabbage is a classic Christmas dish, spiced with cinnamon and apple.
Brussels sprouts: Cut some Brussels sprouts in half and fry them in a hot pan. No fancy spices are needed. If done right, they will have a crisp surface and are tender on the inside.
Root vegetables: Side this goulash with steamed root vegetables like carrots or parsnips.
Salad: Good old leafy greens are also a classic match to this dish. Wash the greens, add some vegetables, and create a dressing. You're good to go!
Enjoy cooking this cruelty-free variant of a usually very heavy and meaty winter dish. Please don't forget to rate the recipe.
Guten Appetit!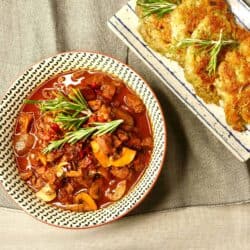 vegan Goulash with soy protein chunks
German-style goulash with soy protein chunks is a warming winter dish that perfectly combines with other typical Christmas foods.
Ingredients
Solid
300

g

mushrooms

1

red bell pepper

1

onion

100

g

soy protein chunks
Liquid
1

l

gravy sauce

200

ml

red wine

40

g

margarine
Spice
0.5

tsp

nutmeg

2

tsp

Sweet paprika powder

5

cloves

2

bay leaves

2

rosemary twigs

fresh

0.5

tsp

cayenne
Instructions
Chop the bell pepper and dice the mushrooms. I usually like big chunks, so I cut the mushrooms in quarters. Cut the onion into thin slices

Melt the margarine or vegan butter in a large pot and fry the pepper and onion until the onion turns golden.

Add the mushrooms and dry soy protein chunks and mix well. Deglaze with red wine. Add paprika, cayenne, bay leaves, nutmeg, and cloves, and roast for one minute while stirring.

Add the gravy sauce and bring the temperature to a low simmering point. Massage a twig of fresh rosemary and let it rest on the goulash. Close the lid and let it simmer for at least 30 minutes so that everything can become tender.

Serve with pasta, potato dishes, or more.
Nutrients per serving
Nutrition Facts
vegan Goulash with soy protein chunks
Amount per Serving
% Daily Value*
* Percent Daily Values are based on a 2000 calorie diet.