Red cabbage is a typical winter dish in Germany. At Christmas, red cabbage is often a welcomed side dish to roasts, meats, knödel and more. Traditionally, you cook red cabbage for hours. That gives it a very tender and melty bite. Red cabbage is a perfect low calories side dish and super rich in vitamin C, A and K.
To make a proper Christmas red cabbage, you have to give it warm aromas from cinnamon, cloves, cardamom and laurel. Make sure to buy them in whole, so their aromas are at best intensity. A dash of sweetness comes from apple and sour comes through white wine and balsamic vinegar.
The more time you give the red cabbage time to develop at low heat, the better it will become. The aromas meld together better, and tenderness finds it place with every bite.
How to prepare christmas red cabbage?
The preparation of red cabbage is simple. Chop the cabbage, apple and onion. Heat up some oil in a big pot and roast the cabbage, apple and onion on medium heat.
Deglaze with the wine and vinegar and add the spices in a tea-bag or filter. Let it sit for at least one hour at low to medium heat. Make sure the cabbage does not burn. Stir from time to time. The more time you give your Christmas red cabbage to rest, the more tender and soft its bite will be. One hour is the bare minimum.
What fits red cabbage?
As this dish won't make a meal stand-alone, you best combine it with other Christmas and winter dishes. A great companion is this super-warming German-style goulash made from soy protein.
Of course, red cabbage works as well with many other things like roasts, meat dishes, stews, and more. Anything slow cooking is ideal, as this allows the cabbage dish to slowly simmer while you prepare the rest of your feast.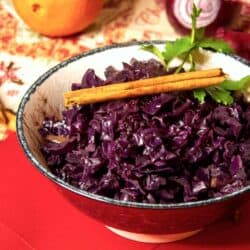 Christmas red cabbage
This traditional side dish fits perfectly into a christmas dinner. With its warming aromas it can acompany typical christmas menus like roasts.
Ingredients
Vegetables
1

kg

red cabbage

1

apple

sweet

1

onion

small
Spices
5

cloves

whole

5

green cardamom

whole

5

g

cinnamon

whole

1

tbsp

sugar

3

bay leaves

laurel

1

pinch

pepper

1

pinch

salt
Liquids
100

ml

white wine

2

tbsp

balsamico vinegar

1

tbsp

sunflower oil
Instructions
Dice the cabbage, onion and apple. Warm up oil in a pot at medium heat. Toss in the diced vegetables. Stir in sugar, pepper and salt. Let it roast a bit while stiring frequently.

The whole spices go into a tea filter and then into the cabbage. Give in the vinegar and white wine. Reduce the heat to a low simmering point.

Let it rest like this for at least an hour. Stir properly here and there and make sure that there is always a little bit of liquid at the bottom. We don't want the cabbage to burn. Add water if needed little by little.

The more time you give it to rest, the smoother the texture will get and the better the taste distributes. One hour is the bare minimum.
Nutrients per serving
Nutrition Facts
Christmas red cabbage
Amount per Serving
% Daily Value*
* Percent Daily Values are based on a 2000 calorie diet.