Wintertime is gravy time! There are so many dishes that go well with a mushroom gravy sauce. The combination of mushrooms and red wine lifts the taste into new dimensions and loads the sauce with good amounts of umami. This recipe works with low amounts of fats and is built on fresh vegetables. It serves as a great alternative to heavy and buttery gravy sauces. Use this gravy for roasts and meat dishes, or use it to build a german style goulash with soy protein chunks.
If you want, you can cook this gravy in bulk and put it in the freezer.
Ingredients for a German-style mushroom gravy sauce
If you want to do a German-style gravy sauce, you will need Suppengrün. Suppengrün is a fancy name for a selection of vegetables that build a base for many soups and stocks you find throughout German cuisine. In Germany, you can find fresh Suppengrün pre-packed for less than a buck. If you don't happen to live in Germany, you got to pick the ingredients on your own. For traditional Suppengrün you need carrots, onion, leek, celery root, and parsnip. On top of that, you add mushrooms, and boom, you got your mushroom gravy sauce.
Using scrap vegetables to make gravy
If you don't feel like searching for specific ingredients, you can also use any other vegetables to make a great stock. Peppers, zucchini, pumpkins, celery, broccoli... they all have the potential to make a great sauce. Each combination turns out slightly different, but still makes the foundation for a delicious stock.
I recommend collecting peels and vegetable scraps from your other cooking. We most often cut off skins and stems when chopping vegetables. These contain high amounts of nutrients and aromas. Don't waste these, save them!
Collect all your scraps in a bag and freeze them until you got enough to make a decent amount of gravy. Just toss them in the pot like you would do with a Suppengrün. The taste will be good.
Steps to make gravy
Chop your vegetables or collect your scraps. Preheat a big pot with oil to medium-high heat. Fry off your veggie cops. with the lid closed down.
At the bottom of the pot, you should see a brown layer building up. Scrape this off before it burns black. Repeat this process to build up good amounts of roast and umami through the Maillard reaction. The more roast you add, the darker and more intense the gravy will turn out.
Next, deglaze with a dash of soy sauce (more umami) and red wine. Let the alcohol evaporate while simmering for five more minutes.
Blend the stock with a hand mixer until creamy. Let it cool down for filtration. If you want to reduce the waiting time, you can let the whole pot sit in a cold water bath. The heat will be absorbed by the surrounding water.
While the cream is cooling down, you can prepare a sieve with a clean kitchen towel over an empty pot. Run the cream through the towel to create a fine gravy sauce. Close the towel and squeeze it to extract more of the sauce.
Alternatively, you can run the cream through a food mill or a fine sieve directly. This results in a more thick and creamy gravy.
Finally, add some starch and water to thicken the sauce a bit. A teaspoon full of cornstarch dissolved in a bit of water helps thicken the sauce. Return everything to a pot and heat up once more to let the starch kick-start its thickening work. 3 minutes of simmering should already thicken the whole mushroom gravy.
Enjoy!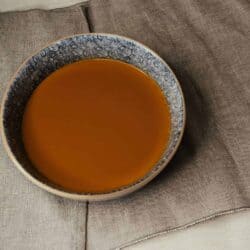 Mushroom gravy sauce
This mushroom gravy sauce is an excellent companion to roasts, meat dishes, and more.
Equipment
Hand Blender

kitchen towel

sieve
Ingredients
Stock vegetables
2

carrots

0.5

leek

1

onion

100

g

celery root

100

g

parsnip

200

g

mushrooms
Liquid
2

tbsp

soy sauce

200

ml

red wine

1

l

water

2

tbsp

sunflower seed oil
Spices
1

tsp

salt

0.5

tsp

nutmeg

2

tsp

Sweet paprika powder

2

tsp

thyme

1

tbsp

mustard
For thickening
2

tsp

cornstarch

50

ml

water
Instructions
Preheat oil in a big pot and chop your stock vegetables. Roast the vegetables until a brown layer builds at the bottom, but try not to burn it.

Add the spices and stir.

Scrape the coating off and repeat it multiple times. The brown layer adds roast aromas. The more you integrate, the darker and more intense the gravy becomes.

Deglaze the stock with a dash of soy sauce. Add the red wine and bring it to a simmer, so the alcohol can escape. Finally, add water and let it simmer for 5 more minutes. Turn off to cool down. Turn the stock into a cream with the help of a hand blender.

Prepare a sieve and a kitchen towel for filtering to make a thin gravy sauce. Alternatively, you can just use a fine sieve or a food mill to create a thick gravy.

Pour the gravy into the towel and scrape it with the help of a big spoon. Collect the gravy in the pot below. You can close the towel and continue squeezing by hand to gather more gravy sauce.

If you want to thicken up the gravy sauce a bit, mix a spoon full of cornstarch with water. Stir this mixture into the gravy and bring the gravy to a simmer. After 3 minutes your gravy will be more viscous and creamy.
Nutrients per serving
Nutrition Facts
Mushroom gravy sauce
Amount per Serving
% Daily Value*
* Percent Daily Values are based on a 2000 calorie diet.