Hibiscus flower is one of the many things I was always aware of, but never tried out eating. Recently I found a whole bag of hibiscus flowers at my local spice dealer and had to try them out. So I followed down Mexican traditions and made Tacos with hibiscus and banana.
Hibiscus - A flower with history
Hibiscus or flor de Jamaica, how it's called in Latin America, is a family of flowers that grows around the globe in tropical climates. You can find tea or infusion made from hibiscus blossom in many cultures under many different names. In Senegal, it goes under the term bissap, in Thailand they make a drink called grajeab from it. In Italy, hibiscus is prepared hot with lemon and is called carcadè.
Hibiscus itself is full of vitamin C and antioxidants, hence its infusion can be beneficial for your health.
You can actually eat hibiscus
After making an infusion from the dried blossoms, you have a great aromatic ingredient to use for cooking. In Mexico, flor de Jamaica is considered a delicacy. This recipe follows the tradition and uses hibiscus in tacos.
It actually doesn't take much to make the hibiscus flours taste great. I just fried them together with some tomato and onion and in the end added some salt and pepper. That's it. Together with the rest of the taco fillings, the flours blend in perfectly.
How to make flor de Jamaica tea?
If you intend to eat hibiscus, you need to soak the blossom in any case. As a nice side product, you will get tons of flor de Jamaica, the typical Mexican hibiscus infusion.
10 gram of dried hibiscus are enough to make one liter of flor de Jamaica tea. This amount is also a perfect size to fill two big tacos, enough to get a grown up full and happy.
All you need to do is counting how many people there are to be fed and sum up the amount of water and hibiscus flower needed. Bring the water to a boil and soak the flowers for at least 20 minutes. Rinse properly.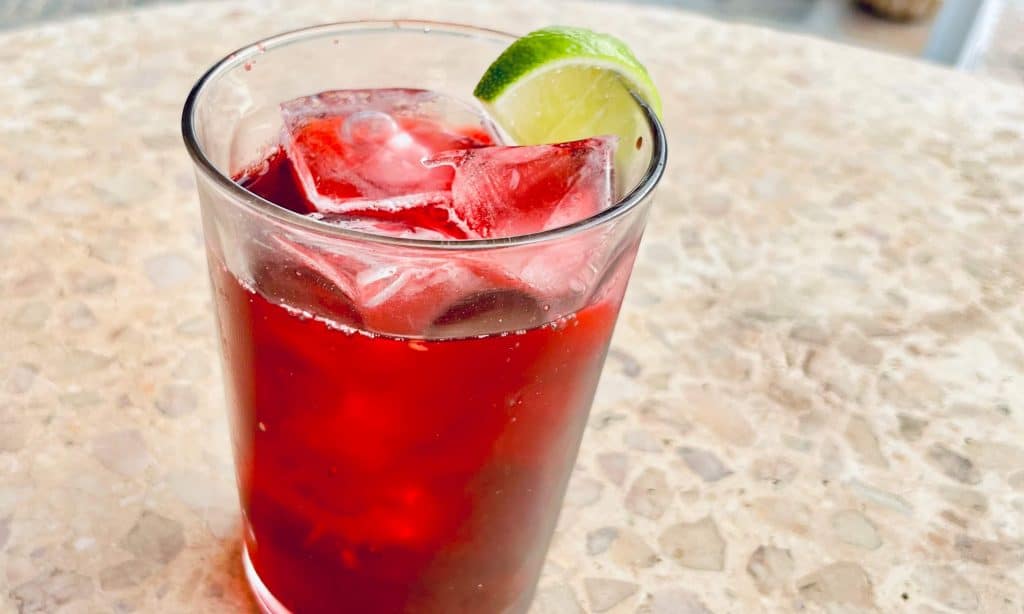 Add half a lime and sugar to your liking into the drink and bring it down to a chill temperature. Ideally, serve on ice on a hot summer day.
Choosing the right ingredients for tacos with hibiscus and banana
As with all dishes that you can stack, you open doors for variation and creativity. Just make sure the basic concept is given, then feel free to fill and combine ingredients to your liking. Pretty much anything plays along well with hibiscus.
If you want to go full mexican, you should make use of corn tortillas. In this recipe, I used home baked tacos made from spelt. For the filling, I chose to build a base of black beans and whole grain rice. 
A fresh guacamole serves as a great sauce. Lime, jalapeños and cilantro give the dish its well deserved punch.
For some surprising contrast in taste and texture, I decided to roast a banana. Just cut it in long slices and heat up a grill pan with some oil. Fry the banana on high heat for round about a minute on each side, and you're ready to go.
I recommend serving the ingredients in separate plates, so that your guests can pick their favorites freely. Other great ingredients can be soy protein or ground meat, mayonnaise, hot sauce, garlic... the options are endless!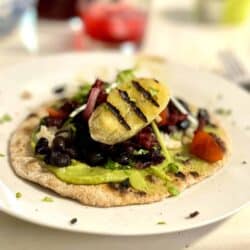 Tacos with hibiscus and banana
A tropical dish with banana and hibiscus inspired by the Mexican cuisine. This recipe also produces 3 litres of Flor de Jamaica, a chilled hibiscus drink.
Instructions
Preparing the basics
Boil the rice and beans following the insturctions.

Chop cilantro and cut the leek into short sticks.
Preparing the hibiscus flowers
Get some water to boil. Soak the dried hibiscus flowers for at least 20 minutes in hot water. Rinse properly and let dry out excess water.

Chop the soaked hibiscus flowers and onion into smaller bits, cut tomato in half and bring a pan to medium high heat. Add oil and fry the flowers with the onion and tomato for a couple of minutes.
Fyring the banana
Cut the banana into long slices. Heat up a grill pan (if you have) and spread some oil onto the grill. Fry the banana on high heat to give some roast stripes on each side.

The softer the banana you chose, the more likely it will turn into a puree. A good banana to pick has no green parts left, but also only a few dark spots on the skin. If you pick it too early, it lacks taste, if you pick it too late, you risk producing pudding.
Nutrients per serving
Nutrition Facts
Tacos with hibiscus and banana
Amount per Serving
% Daily Value*
* Percent Daily Values are based on a 2000 calorie diet.