Eat more beans!
As you might know, beans are considered super healthy powerhouses in our diet. Especially on a vegan diet, they are a fantastic source of protein. Thats why I usually try to sneak in more of them onto a plate. The best sneaky way is the way that people love - Burgers! This is why i came up with the recipe of the Mexican style black bean burger.
Going whole
Building a burger on whole foods nowadays is really easy. You just need a mass of carbs and protein and combine it with a binding agent. You can find all those components in whole foods obviously and don't need to rely on additives. For our purpose, ground flax seed does the trick here pretty well. Alternatively you can also try it with ground chia or a mix of both. Just add the seeds into a coffee mill or blender and process them for a couple of seconds on high speed. M
Creating the flavour signature of your Mexican style black bean burger
With just the mass of beans, rice and mushrooms, you still got plenty of room to choose how the burger is going to taste. Considering that black beans are a very typical food for middle and South American dishes, I decided to go for a Mexican style seasoning. To create a Mexican style black bean burger, I decided to use tons of cilantro/coriander, cocoa, cumin and a tiny dash of star-anise.
Make it your own
As usual, I don't intent my recipes to be followed gram by gram. That's why I want to encourage you to go make your own. You can start off by blending the mass and figuring out what a good texture is. After you got that going, you can transfer this knowledge to other ingredients as well. Use oats or quinoa instead of rice. Swap black beans for lentils, chickpeas and more. Don't like mushrooms? Skip them or replace them.
With little to no effort, you could make this a burger Indian style, Japanese,Mediterranean... Find the spice combination you like and create your own personal experience.
If however you follow my lead and make it a Mexican style burger, you should absolutely combine it with some homemade guacamole.
Stacking the burgers
This recipe is only about the patty itself. I recommend picking whole food quality buns, adding fresh veggies, potato wedges and more. If you follow the Mexican style flavouring here, I totally recommend adding guacamole and jalapeños to the mix. On mine i used whole grain bread rolls, rocket, hummus, guacamole, cheese, sriracha sauce, onion and tomato.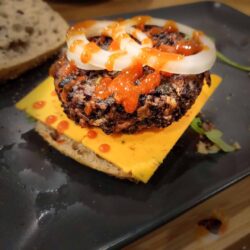 Mexican style Black Bean Burger
This recipe is only about the patty itself. I recommend picking whole food quality buns, adding fresh veggies, potato wedges and more goes just great with it.
Ingredients
The Mass
200

g

Black natural rice

Boiled and dried

250

g

Black beans

Boiled and dried

100

g

fresh Shitake

50

g

Onion

3

tbsp

Ground Flax Seed
The Flavor
3

tbsp

Soy Sauce

2

tbsp

Cocoa

1/4

tbsp

Ground Star Anise

25

g

Chopped Cilantro

Coriander Greens

2

tsp

Ground Cumin
Instructions
Best start off by boiling the rice. If you have precooked Beans you can use them alright, if not - soak them for at least 2 hours, rinse and then boil them for 45 minutes.. Make sure to wash them properly and let everything dry out afterwards.

Chop the onion and shiitake mushrooms. Add oil to a pan and fry mushrooms and onions at medium to high heat until they start to turn brown. Deglaze with some soy sauce and let the liquid vanish almost completely.

Chop the Cilantro / Coriander, add it to the blender with the beans, rice and mushrooms and the ground flax seeds. Add pepper, salt and cumin to your liking. Add cocoa and anise to round up the taste. Blend on medium speed until the mass is sticky, but still chunky. We don't want to create a homogenous mass here, so better start slowly with the blending.

Form a nice ball from the burger mass and let it rest for at least half an hour. Then take either an empty tin, a burger press or a dessert form (you will find something fitting in your household) and shape some nice round patties. If you now want, you can put them in the oven for 10 minutes to give them more bite by removing excess water. This however is optional

Fry the patties for about 4 minutes on each side on medium to high heat.
Nutrients per serving
Nutrition Facts
Mexican style Black Bean Burger
Amount per Serving
% Daily Value*
* Percent Daily Values are based on a 2000 calorie diet.