Parsnip risotto is a wonderful light dish. Instead of making a classic risotto by softly boiling round rice, this recipe skips the carbohydrates by imitating rice by shreds of parsnip. It accompanies nutty flavours with refreshing acidity from white wine.
What are parsnips?
Parsnip is a root vegetable, that look like huge carrots, but in white. It is actually closely related to them and parsley. It is a typical autumn and winter vegetable that becomes sweeter after the first frost. With only 75 kcal per 100g parsnip is indeed a light alternative to rice. They carry a fair amount of vitamin C and K, as well as a fair amount of fibre.
I recommend to wash the parsnip and eat it with the peel. Most nutrients are hidden right under there, so peeling them off makes them less valuable.
How I came across this recipe
Actually this is one of the first recipes I encountered when becoming vegan back in 2014. My sister back then already went vegan and cooked for me from a cook book. It was a recipe similar to this parsnip risotto.
The basic idea actually comes from a guy who back then was quite a famous vegan cook in Germany; now, he has gone nuts and can openly be called a fascist and conspiracy theorist. Too bad for him. This dish, however, still is good. And that's what we are after, right?
How to make parsnip risotto
Obviously, I made quite some modifications to the original recipe over time. Asparagus is a wonderful addition to the dish that adds a lot of variety of bite. Warm aromas from nutmeg and cinnamon make the dish perfectly warm on cold winter days. Peanut butter adds healthy fats and some protein to the dish, too.
This dish is pretty easily made. Grate the parsnip into small bits and chop the rest of the vegetables as well. Heat up a big pan or wok and start by frying onions and then the asparagus. Toss in the parsnip, add garlic, peanut butter and wine. Round up the dish by adding some diced sun-dried tomatoes in oil.
If you want to vary the dish a bit, you can for example swap the wine for lime. Add cilantro as well.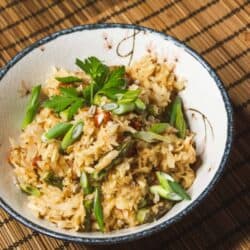 Parsnip risotto with green asparagus
This light dish comes with a low carb foodprint. Parsnip risotto has a nutty flavor, combined with light acidty from white wine.
Ingredients
the dish
350

g

parsnip

grated

100

g

green asparagus

1

red onion

2

tbsp

olive oil

100

ml

white wine

2

garlic cloves

3

tbsp

peanut butter

0.25

tsp

nutmeg

0.5

tsp

cinnamon

6

sundried tomatoes

in oil
decoration
1

pinch

scallion

1

pinch

parsley
Instructions
Grate the parsnips, cut the onions, chop the asparagus. Dice the sundried tomatoes. Heat up some olive oil in a big pan or wok. Start frying the onions for about 2 minutes. Add the asparagus and continue frying another 3 minutes.

Toss in the parsnip shreds and mix well. Heat up for a minute and then deglaze with white wine. Add the spices, garlic and peanut butter.

Reduce the heat to medium and let it fry for some crust. Stir from here to there until you are happy with the result. Last, add the diced sundried tomatoes
Nutrients per serving
Nutrition Facts
Parsnip risotto with green asparagus
Amount per Serving
% Daily Value*
* Percent Daily Values are based on a 2000 calorie diet.