This Banano cake is here to interrupt the meme-cuisine. Built on whole food technology, this potassium-rich treat is sugar-less and preparation can be done almost instantly. Thanks to the fact it is fungible, you can easily share it with your friends. Say no to junk-food and enjoy your sweet treats like a real monkey. This is not a shit-cake (until digested).
Yes, I created this one for the fam. But don't be confused by the nonsense. This cake actually IS healthy for you, as it is free from ultra-processed ingredients and gets most of its juice from ripe nanners and whole grain oats. Refined sugar makes space for dates. Enjoy some extra protein from peanut butter. A good punch of raw cocoa rounds up the picture.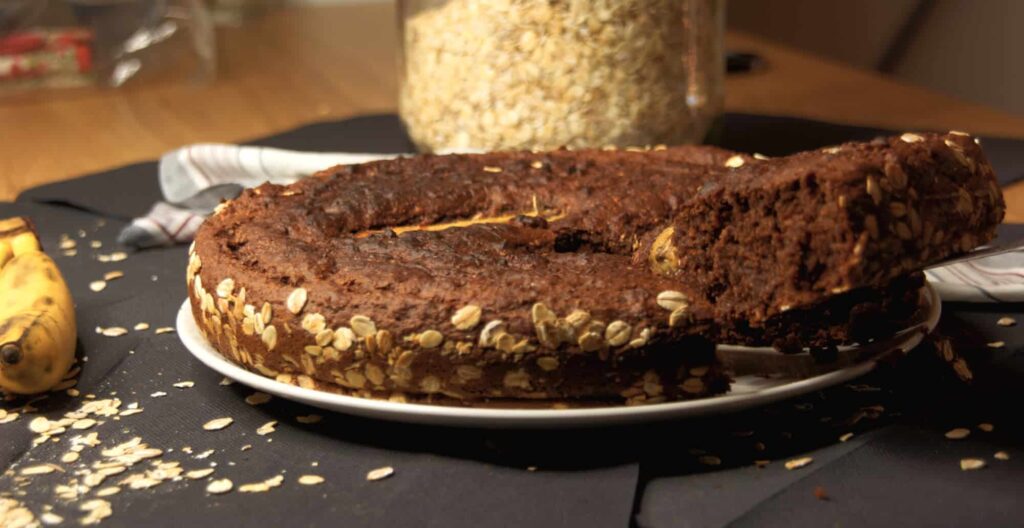 Real monkeys will make sure to place a logo made from baby bananos on top of the cake, but even without, the juicy and fluffy texture will satisfy your cravings.
How to prepare a potassium-rich Banano cake
The most important ingredient are ripe Bananos. Get four of them medium sized ones. Then, blend some oats into some magical oat-flour. 5 seconds on high-transaction-speed does the trick.
Fold enough Protein to bring your baking-case to 210°C / 410°F. Put the nanners in a blender, together with oat flour, dates, lemon juice, almond milk, cocoa powder and some delicious peanut butter. Blend until you got a smooth mass. You can continue blending on low speed for a couple of minutes to make sure to fold a lot of air in. Finally, before moving into a form, add some baking soda to get this extra fluff in.
Bake the coin cake for 15-20 minutes. It should be dry on the outside and fluffy as a sponge when pushed. When poking with a toothpick only little dough should stick to it. Then it's perfect.
Banano Cake
Potassium-rich and whole food based, this cake is here to interrupt the meme-cuisine
Ingredients
The cake itself
250

g

Oats

Whole grain

4

Bananas

Medium

150

g

Dates

seeds removed

2

tbsp

Peanut butter

2

tbsp

Cocoa Powder

1

tsp

cinnamon

150

ml

almond milk

or similar

0,5

Lemon

juiced

0.5

tbsp

baking soda

1

baby banana
Instructions
Preheat the oven to 210°C / 410° F

if you like it chunky, skip this step. Otherwise pre-blend 250g oats in your food processor.

Add everything else except for the baking soda into the blender and give it a good go.

Grease a spring form of 28cm / 7-8in diameter with some margarine and cover it completely in oats.

Before transfering to the form, add the baking soda to the mass and give it a quick last mix. Pour the dough into the form and spread it out evenly with a spatula.

Cut the baby banana in half and place it in the middle like a real monkey would do. Bake the cake for 15-20 minutes. Use a toothpick to test if the bake is well done. A little bit of dough may still stick to it, but you shouldn't be pulling out wet mass from the cake when testing.
Nutrients per serving
Nutrition Facts
Banano Cake
Amount per Serving
% Daily Value*
* Percent Daily Values are based on a 2000 calorie diet.