You know those days when you are just desiring sweet junk food and cannot help it? Well then, I got some good news for you. You can follow your needs and give your body some healthy treats with these homemade whole-food oatmeal cookies.
Making oatmeal cookies is fast and easy. Mixing the dough takes less than 5 minutes, and the bake time is no more than 8 minutes in total.
So whenever it is one of those days when your heart asks for some treat, take the chance and surprise yourself with something both joyful, sweet, and healthy.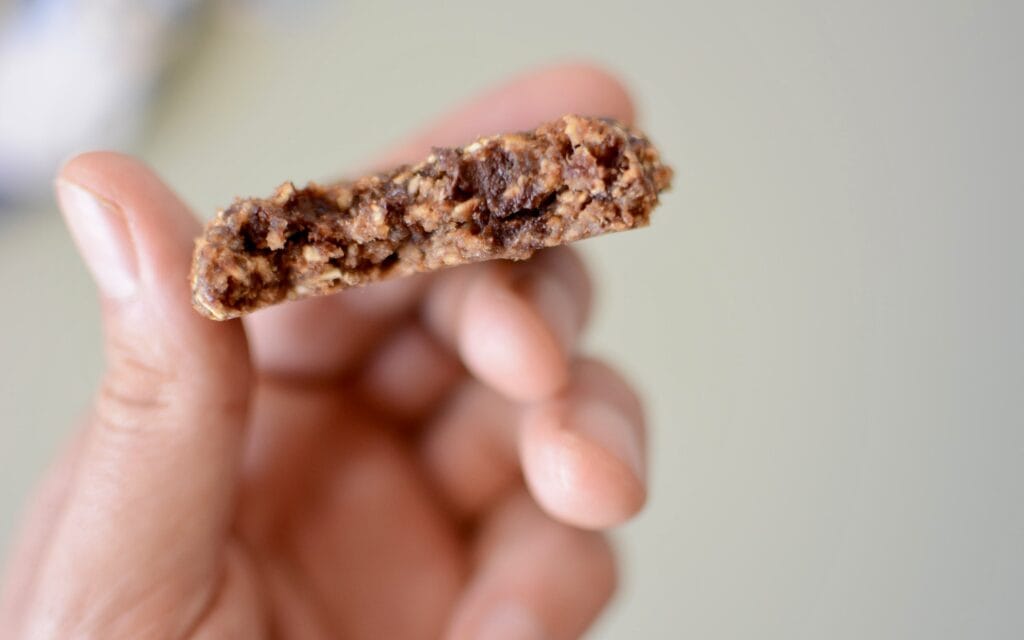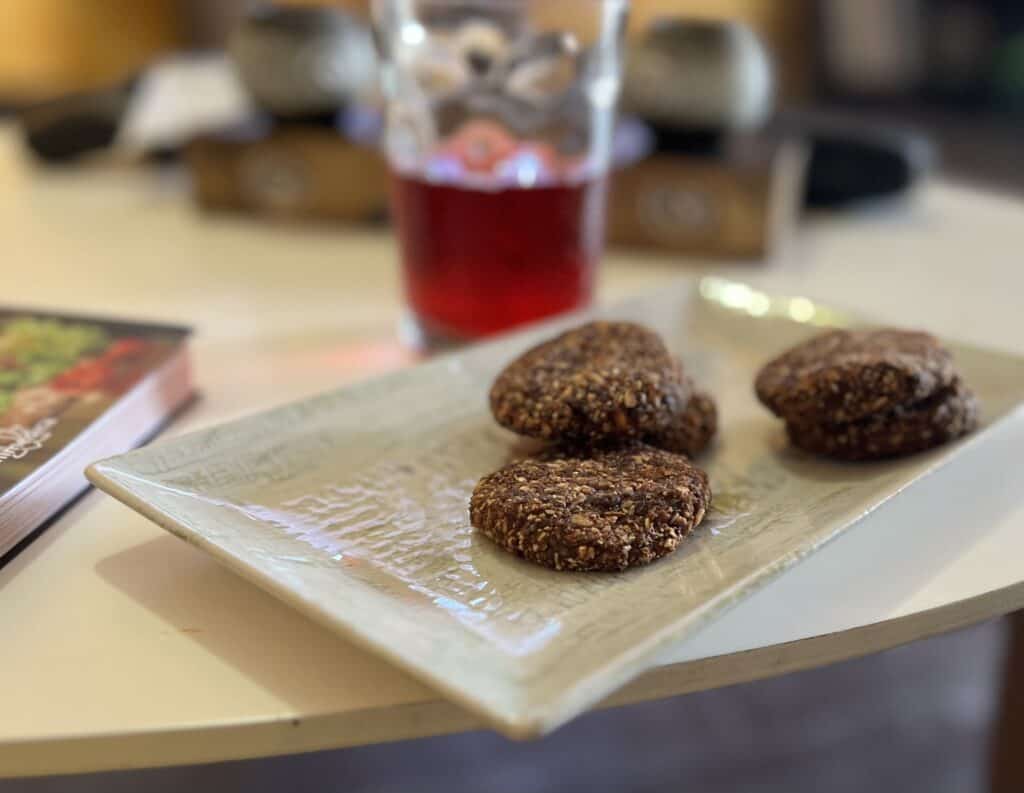 Ingredients for oatmeal cookies
These whole-food oatmeal cookies don't ask for many fancy ingredients. For the dough itself, you need three main ingredients:
One cup of rolled oats. Pick the whole grain variant if possible, as this is more beneficial than soft oats. This also works with a muesli or similar, containing nuts, raisins, or bits of dry fruit!
One cup of dates with seeds removed. Dates are a great natural alternative to refined sugar regarding sweetness. They still consist 2/3rds of sugar, but unlike refined sugar, they pack plenty of nutrients like vitamins and minerals.
One-third of a cup of plant-based milk. You can pick the variant you like the most.
Sweet additions and crunch
With the dough all set, you can add more flavourful ingredients. You can add anything that adds texture, taste, and aroma. In this variant, I balanced between sweet and healthy.
One-third of a cup of chocolate chips. When hot, they are still melty. When cold, they give a great crunch. Chocolate ❤
Two teaspoons of chia seeds. Chia seeds are great and beneficial: They provide plenty of minerals like iron, calcium, and selenium. Also, chia is associated with many beneficial properties for your health. They add more crunch to the texture of the oatmeal cookies.
A few drops of vanilla aroma. To round up the pleasure, I like adding a couple of drops of vanilla aroma to the dough before baking.
How to make whole-food oatmeal cookies from scratch?
Making these oatmeal cookies is a breeze and takes almost nothing of your time. The recipe only asks you to throw together the ingredients for the dough, shape cookies, and put them into the oven.
Preheat the oven to 180°C / 350°F
Remove the seeds from the dates and fill up one cup of seedless dates. I love using Medjool dates, as they are huge and super juicy.
Combine the dough: Using a blender, mix oats, dates, and plant milk together at high speed. The idea is to break open the oats and evenly distribute the date's pulp.
Combine your sweet additions and crunch. Either use your blender at low speed or use a spoon to incorporate your sweet additions and crunch into the dough
Shape the cookies. Take a table-tennis-sized piece of dough and shape a ball. Press it on your baking tray covered with baking paper.
Bake the cookies for 8 minutes. And that's it. Let the cookies cool down, and they are ready to enjoy.
Do I need a blender to make these oatmeal cookies?
No, not necessarily. Blending the dough helps crumble the oats and evenly distribute the dates' pulp. Like this, the starch of the oats can help the dough stick. If you do not have a blender at home, you can still combine everything evenly using a hand mixer, spatula, fork, or spoon.
Make sure to cut the dates into smaller pieces to have an easy time properly combining everything. The result will be similar but will deliver more texture from the oats.
Use soft oats instead of the whole-grain variant if your dough won't stick without blending. These have their hulls removed, which makes them so soft. Without the hull, the starch of the oat soaks the liquids better.
How many cookies do I get following this recipe?
This recipe is intended to create 9 cookies. If you follow my ingredients list and go for roughly the same-sized cookies, you should end up with the exact yield.
Scaling this recipe
If you want to create those cookies in a batch for offering them to guests or enjoy a few cookies for yourself, you can quickly scale this recipe up or down.
The vital part of this recipe is the ratio between the base ingredients. It's always one part oats, one part dates, and one-third part of liquid to create the base dough. Whether you think in cups, grams, or buckets doesn't matter. You can use your favorite coffee mug to make the measurements, too!
Nutritional value
With those easy-peasy-to-make whole-food oatmeal cookies, you snack on some natural treasures. Oats are packed with fiber, are rich in minerals like iron and magnesium, and hold a good load of essential proteins. By replacing white sugar with the sweetness of dates, you add vitamins and antioxidants on top while not sacrificing the excellent taste.
Adding chia seeds to the dough further boosts the mineral contents. Also, chia delivers a massive amount of polyunsaturated fats in an excellent ratio.
How many calories does a cookie have?
Following this recipe with precision will give you nine cookies with roughly 122kcal per piece. Consider eating 3-4 pieces a small meal.
Great variants of this recipe
If you know how I write my recipes, you know they are intended to work more like a template. The focus of this recipe is the ratio between the base ingredients. If you follow that, you can change the rest of the recipe in any way you could possibly imagine.
Add a table spoon of peanut butter. This gives the dough the typical warming aromas of peanuts and also adds a good amount of protein to the cookies.
Add small pieces of dried fruit. I'm thinking of things like banana chips, dried berries, dried mirabelles, apple rings, and many more.
Add nuts and seeds. You can add pieces of nuts or whole seeds to the dough. Hazelnuts match the chocolate perfectly. But also Cashews, peanuts, almond splits, and others make a great fit.
Melt chocolate and give them a couverture. Yes! Dipping those cookies in glazing surely can enhance the experience further.
Whole-food Oatmeal Cookies
Making whole-food oatmeal cookies is fast and easy. Mixing the dough takes less than 10 minutes, and the bake time is just 8 minutes.
Ingredients
The Dough
1

cups

Rolled Oats

1

cups

Dates

Seeds Removed

1/3

cups

Soy Milk

Or any alternative
Flavour and Crunch
1/3

cups

Chocolate Chips

2

tsp

Chia Seeds

1

pinch

Vanilla

optional
Instructions
Preheat the oven at 180° C.

Measure one cup of oats and blend it well.

Remove the seeds of some dates, fill the next cup with it.

Add the dates and one third of a cup of your favorite plant milk into the blender as well

now give it a good mix at high speed until you got an even mass.

Now to the flavoring:

clean your cup and give some tasty ingredients. To get started with this recipe, I use some chocolate bits, chia seeds and vanilla

other great ingredients are peanuts and peanut butter, almonds, orange peel with cloves and nutmeg... there is many possible combinations.

Shape some balls of dough and press them against a parchment paper on a baking tray.

Bake the cookies for 8 minutes and let them cool down afterwards.

Enjoy!
Nutrients per serving
Nutrition Facts
Whole-food Oatmeal Cookies
Amount per Serving
% Daily Value*
* Percent Daily Values are based on a 2000 calorie diet.