Okay. I admit it. Reading through any restaurant's menu my (and your?) attention immediately gets caught by sections such as "Burgers" and "Pizza". Because why not? Foods like that are a warming comfort-option after a long week at work. You gotta enjoy the weekend, right? And that's okay sometimes.
But what if your body slowly started to crave different foods? What if you could link a healthier option to your good mood? What if vivid colours and fun twists could make you want a salad so badly? It's possible, trust me.
Guys – forget iceberg lettuce and "no-taste" tomatoes. They're outdated. We're not talking about a boring Monday-on-the-go-lunchbox you brought to work after a Sunday-sesh.
No. Who says all salads have to be like that?
With this easy peasy not-so-boring salad you will realize it doesn't take much to spice up that healthy classic that has been in every diet-magazine for decades!
Let's do it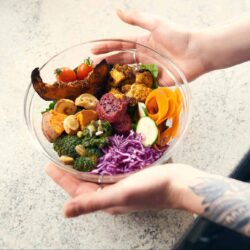 Easy peasy not-so-boring Salad
Ingredients
Base
100

g

Spinach

Or any prefered type of leafy greens
Roasted Veggies
1

cups

Sweet Potato

1

cups

Parsnip

1

cups

Pumpkin

1

cups

Broccoli

1

cups

Cauliflower

1

tbsp

Olive Oil

1

tbsp

Rosemary

fresh

1

tbsp

Pomegranate-Molasses

1

tsp

Tumeric

1

pinch

Salt and Pepper
Protein
200

g

Chickpeas

2

Beetroot

previously roasted

2

tbsp

Olive Oil

2

tbsp

Tahini

1/2

Lemon

Juiced

1

tsp

Garlic Powder

1

tsp

Cumin

1

pinch

Salt and Pepper
Healthy Fats
1

tbsp

Sunflower Seeds

roasted

1

tbsp

Pumpkin Seeds

roasted

1

tsp

Pistachios
Dressing
1

tbsp

Tahini

1/2

Lemon

Juiced

1

tsp

Garlic Powder
Instructions
Base
Spinach, kale, arugula or mixed leafy greens (just as you prefer) are packed with vitamins, minerals and fibre, while they are low in calories, which makes them an excellent base for your salad-bowl.
Raw Veggies
Of course, you can enjoy your cherry tomatoes, sliced cucumber, red cabbage and shredded carrots in their raw version for a quick fix (that Monday morning...). It's important to add some raw, unprocessed elements to your meals since they are linked to several health benefits such as better heart health, lower risk of diabetes and better digestion.
Roasted Veggies
It's not that much effort guys trust me. It's really just about taking a sharp knife and cutting that stuff! So get out the board and let's get going! For this version I used sweet potato, parsnip, pumpkin, broccoli and cauliflower, which I all roasted in the oven together at 180 °C (350° F) to save time. The exact quantity of veggies here depends on you (and the size of your oven). Just as for the raw veggies, I tend to prepare my lunches for the whole week in advance, so I usually roast all the veggies I have at once. Sweet potato and parsnip: mix with salt, pepper, some olive oil and lots of fresh rosemary and roast for ca. 30 min (it really depends on the oven, just check them after 20 min and let them roast until golden-brown). Pumpkin: I usually drizzle it with some pomegranate-molasses (which you can easily get online and constitutes a healthy and interesting way of adding some extra sweetness to the flavour) and mix it (here we go again) with fresh rosemary. Rosemary is my favourite, but guys, TBH you can add whatever herbs you prefer; herbs in general are loaded with protective polyphenols — plant compounds with potent antioxidant and anti-inflammatory effects. Broccoli: just mix with salt, pepper and olive oil and wrap the florets in foil before putting them in the oven for ca. 20 min (I prefer my broccoli to be slightly crunchy, so I don't let it roast for too long). Cauliflower: salt, pepper, oil and - for a twist - I cover the cauli in turmeric, which also adds some yellow colour to the bowl. Turmeric has been used in India for thousands of years as a spice and medicinal herb, plus - it tastes delicious!
Protein
This time I have made a simple beetroot-hummus blending together canned chickpeas (200g drained and rinsed), 2 small previously roasted and cut beetroots (you can also use store-bought already cooked beets for a quicker version), 2 tablespoons olive oil, 2 tablespoons Tahini, ½ lemon (juiced), 1 teaspoon garlic powder, salt and pepper to taste and 1 teaspoon of cumin for extra flavour.
Healthy fats
I sprinkled some roasted sunflower and pumpkin seeds (roast them for ca 20 min at 180 °C (350° F), being careful not to burn them – it will make a HUGE difference, trust me) on top of my salad and added some pistachios, as I am a huge fan. But you can really play with what you've got here: some avocado mashed with lemon, salt and pepper is never a bad choice. Whatever seeds and nuts you like, go for it, they will keep you full longer and reduce cravings.
Dressing
Last but not least, my all-time-favourite dressing is a simple 'garlic-lemon-Tahini' or 'ginger-soy-sesame oil' to drizzle over your end-product, but a lemon-vinaigrette works perfectly fine if that's the flavour you want to go for.
Notes
You can serve this salad as you wish: with the warm, roasted veggies coming right out of the oven or cold, just popping them out of the air-tight container in the fridge and into your lunch box for work.
You still feel "hangry" as usual after this salad?
Try for yourselves and let me know.
Nutrients per serving
Nutrition Facts
Easy peasy not-so-boring Salad
Amount per Serving
% Daily Value*
* Percent Daily Values are based on a 2000 calorie diet.