Do you like sweet potatoes? And do you like quick and easy dishes? Then this sweet potato cream is for you. You won't need many ingredients. Get some sweet potatoes and coconut milk. soy sauce, cinnamon, and vinegar should already be part of every household.
Creating flavour with just 5 ingredients
This cream doesn't require you to be a fully-fledged chef to cook it. Just peel your sweet potatoes, chop them into some chunks, and steam or boil them soft. Grab a hand blender and mash them. Add the coconut milk, a tablespoon of each Soy sauce and balsamic vinegar, and a teaspoon of cinnamon powder. Add as much warm water as you like until you reach the desired consistency. Add more of the ingredients, as well as pepper and salt, to your liking. Finally, decorate the soup with fresh herbs like parsley, chives, or cilantro, and add some croutons or whatever you like the most.
Sweet potatoes contain a lot of vitamin A
Like carrots, sweet potatoes get their color from beta-carotene. This is a secondary plant substance that your body can transform into vitamin A. Unlike with the vitamin directly, you cannot overshoot your vitamin A levels, as the synthesis is a controlled process.
Keep more nutrients by steaming the potatoes
If you have a steamer or a pot inlay, I recommend using it to steam the potatoes instead of boiling them directly in water. When you cook them, they are constantly in direct contact with the water and move around a lot. This helps the water wash out a lot of the potato's nutrients.
If you steam your food, only steam touches it. That means way less nutrients can get washed out, and your overall dish is healthier and carries more aroma. This applies to potatoes and any food you would boil and then take out of the water.
Can I freeze the sweet potato cream?
If you think of creating and keeping a batch, then I have good news for you. Yes, you absolutely can freeze this soup.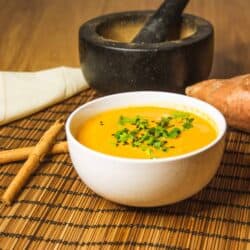 Sweet potato soup
Sweet potato cream made from only a hand full of ingredients. Get your hand blender going and enjoy this warming soup in only a few minutes.
Ingredients
700

g

sweet potato

200

ml

coconut milk

1

tbsp

Soy Sauce

1

tbsp

balsamic vinegar

1

tsp

cinnamon

water
Instructions
Peel and chop the potatoes. Get some steam going or boil the potatoes until soft.

Mash the potatoes with a hand blender. Add the coconut milk, cinnamon, soy sauce, vinegar as well as pepper and salt

Add water until you reach your desired consistency. Taste the soup again and add back what's been watered down if you find the taste too soft.

The rest is decoration. I recommend fresh herbs like parsley and chives.
Nutrients per serving
Nutrition Facts
Sweet potato soup
Amount per Serving
% Daily Value*
* Percent Daily Values are based on a 2000 calorie diet.