Deep, bright, and full of flavor. Thanks to Ramen, noodle soups are finally sexy again. Even though most Ramen has a solid common base, there is so much variation in flavor. You can have it spicy, creamy, sweet or sour. This ramen with fried mushrooms and blackened garlic tries to cover a bit of everything. If you don't like spicy, leave out the hot sauce. If you want it less sweet, don't add the syrup. Instead of having a base you can build upon, this recipe offers a completely wholesome flavor, which you can reduce to change in different directions. Same same, but different.
If you look at the recipe below, you can see that each component is a flavourful creation itself. You can cook the seasoning, broth, or fried mushrooms individually and reuse them in other dishes. For example, fried mushrooms can be a great addition to a Wok or Burgers.
If you follow the instructions, you will end up with two big bowls of ramen. Just adapt the servings below to scale up or down.
Focus on fresh ingredients
If you imagine this Ramen with fried Mushrooms separated into taste and aroma, you will see the solid foundation of the basic five tastes in the broth, sauce, and garlic roast. For that, you still have plenty of space to fill with aromatics. And here, freshness comes into play.
Ensure you grab the freshest herbs and mushrooms available on the market. While you paint a warming low taste with the roasted mushrooms, the freshness of cilantro and scallions outbalance the brights. The fresher you go, the more intense this play can become.
I recommend serving this ramen sided with slices of lime, Siracha hot sauce, and soy sauce. Like this you allow your guests to fine-tune the dish's taste to their liking. Keep a small stack of chopped herbs aside as well to refill when needed.
Now enjoy 🙂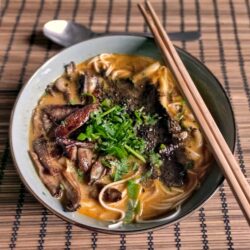 Ramen with fried mushrooms and blackened garlic
All steps belowcan be cooked individually and re-used in other dishes. If you follow the instructions, you will end up with 2 big bowls of ramen.
Ingredients
The Broth
1

Onion

1

Carrot

Small

1

Cellery stalk

Small

1

tbsp

Vegetable stock

1

l

Water

1

tbsp

Sunflower Seed Oil

150

g

Enoki
The fried Mushrooms
200

g

Oyster Mushrooms

Or shiitake

10

g

Ginger

1

tbsp

Sesame Oil

dark roasted

1

dash

Soy Sauce
Blackened Garlic
3

Gloves of Garlic

3

tbsp

Sunflower Seed Oil
The Flavoring
2

tsp

Tahini

2

tsp

Miso Paste

2

tsp

Soy Sauce

2

tsp

Siracha

2

tsp

Rice Vinegar

2

tsp

Mirin

or syrup
The Rest
100

g

Soba Noodles

2

pinches

Coriander

Cilantro

2

pinches

Scallions
Instructions
Preparing the Broth
Cut one onion, carrot and celery and slowly fry them in a pot with some oil until they start to turn brown. Add a spoonful of vegetable stock (powder) and one litre of water. Heat up until its boiling.

Blend the stock and filter out the bits with a fine sieve or through a kitchen cloth. Return it to the pot and let it simmer. Add the enoki mushrooms to the stock.
Preparing the blackened garlic
Peel the garlic gloves and cut them into rough bits. Heat up a small pan, add the oil and the garlic.

Let the garlic fry on high heat until it turns black on the outside. Turn off the heat and let it cool down before moving to the next step.

Add the garlic and the oil into a blender and blend until saucy.
Preparing the Flavor
Get two soup Bowls and add one teaspoon of each: Tahini, soy sauce, sesame oil, vinegar, Miso paste and Mirin (alternatively Agave syrup, if you don't have mirin). Whisk until even.
Frying the Oyster mushrooms
Cut the mushrooms into broad slices. Heat a pan to medium heat and add some oil, mushrooms and pepper. Let them fry for a couple of minutes until they get a decent roast.

Once the mushrooms got some color, add ginger and deglaze with a dash soy sauce.
Putting things together
Add the stock with the enoki into the flavoring and give it a good mix. Add the soba noodles on top of that.

Add the fried mushrooms, cut some cilantro and spring onion and sprinkle them. Pour some of the blackened garlic sauce over your ramen. You're done!
Nutrients per serving
Nutrition Facts
Ramen with fried mushrooms and blackened garlic
Amount per Serving
% Daily Value*
* Percent Daily Values are based on a 2000 calorie diet.