Another classic but great breakfast idea is the good old smoothie bowl. You can consider it as a great boost for your vitamins and antioxidants as this breakfast is focuses around fruit. Learn how easy it is to create your own smoothie bowls in just minutes.
A smoothie bowl does not need to be expensive
Nowadays very popular is the açai bowl. Açai in the end is nothing but a fancy berry. If you're not in South America, you usually can find them either frozen or buy them in a powdered form online. Açai berries are quite healthy themselves, but bring a bitter taste.
If you want to create your own smoothie bowls, you don't depend on fancy berries that get shipped across the planet. You can make use of what is produced locally. You can consider Berries to be among the healthiest foods available. So better make use of them. Which ones you choose, doesn't really matter. As a rule of thumb: They are all awesome, but the darker they are, the more bioactive substances they contain. So I recommend checking out your local supermarket and look for frozen berries you like.
Rounding up the nutrients
As we already have the bowl filled with so many vitamins and antioxidants, we can use their properties to boost the absorption for some important minerals like iron and zinc. Sneak in some oats, seeds and other healthy grains before or after blending. As usual, flax and chia are great ways to boost your Omega 3 fatty acids.
Variety is everything
Yes you can take my recipe literally, work gram by gram and follow each ingredient. But this type of bowl offers so much variety. Fruits are interchangeable, you can add grains, you can add seeds you like. Add spices like cinnamon, vanilla or even ginger. Once you get routine on the basic idea, your imagination is the limit.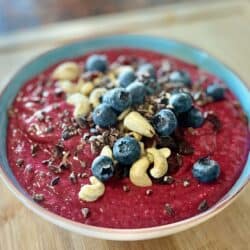 Create your own Smoothie Bowls
The easy way to get your Vitamins in control
Ingredients
The Basics
150

g

Frozen Berries

Any type you like

1/4

Mango

1

Apple

40

g

Rolled Oats

1

tbsp

Chia Seeds

1

tbsps

Flax Seeds

1

Banana
The Decoration
50

g

Berries

20

g

Nuts

1

pinch

Coconut Flakes
Instructions
It's pretty straight forward actually. All you want to do is create a thick cream from your fruit and other ingredients. Both the ice from the frozen berries, as well as the starchy content of the oats and seeds help binding the smoothie bowl. So give whatever ingredient you like into the blender as well.

Move everything into your bowl and start decorating with fruit and nuts. Usual suspects are berries, Bananas, nuts and coconut flakes. But in the end... who cares? Go for what you love!

That looks lovely! Enjoy!
Nutrients per serving
Nutrition Facts
Create your own Smoothie Bowls
Amount per Serving
% Daily Value*
* Percent Daily Values are based on a 2000 calorie diet.